Welcome back to the (Not So) Wordless Wednesday Blog Hop!
Welcome back! Thank you for coming back week after week to share your photos. Please share after you link up so we can continue to grow!
Father's Day
Happy belated Father's Day to all the wonderful fathers out there! I hope you all had as wonderful of a day as we did!
This is my favorite photo of the day. It's just so sweet!
The Princess painted a picture of a purple dinosaur on a small canvas for Daddy. He loved it!
She also picked out a picture frame with the Luke Skywalker quote, ""The Force runs strong in my family" and a button that plays the Darth Vader song. He of course loved both!
Did you do anything special for Father's Day?
on to the hop...


3. Visit some of the other blogs that have linked up!
4. Share!
Copy and post the button below on your sidebar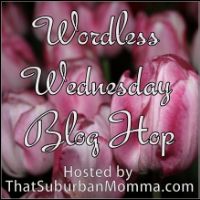 <div align="center"><a href="http://www.thatsuburbanmomma.com/search/label/wordlesswednesday" title="That Suburban Momma"><img src="http://i1311.photobucket.com/albums/s663/thatsuburbanmom/b8c8532b-6378-401a-b58c-38314524e29c_zpsed912a71.jpg" alt="That Suburban Momma" style="border:none;" /></a></div>