Welcome back to the (Not So) Wordless Wednesday Blog Hop!
Welcome back! Thank you for coming back week after week to share your photos. Please share after you link up so we can continue to grow!
Multnomah Falls Hike
There are so many beautiful places here in Oregon. One of my favorite places to hike at is Multnomah Falls.
I took The Princess to hike it for her first time last week.
The hike up to the top is only about 2.6 miles round trip. It's such a beautiful sight on the way up and we had so much fun.
The view from the top is so breathtaking. I was so proud that she made it all the way up without whining.
After we went back down a bit and went towards Wahkeena Larch Mt. There is a beautiful spot by the stream that I love to just sit at. We stopped and had lunch and enjoyed the beautiful view.
After we ate, we played in the stream for a bit.
On our way back down, we met a friend.
When we got to the bottom we had some soft serve ice cream. The perfect way to end an uphill hike!
If you are ever in the area, you should definitely stop by. It's a beautiful waterfall to see even if you don't want to hike all the way to the top!
Stop by later this week to see my posts about the Europe trip!
On to the hop...

The Rules
Leave a comment letting me know that you are a new follower, so we can follow you back!
2. Link up any post with photos, it doesn't have to be wordless.

3. Visit some of the other blogs that have linked up!
4. Share!
Copy and post the button below on your sidebar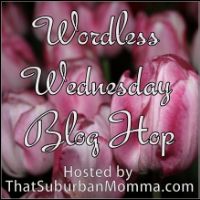 <div align="center"><a href="http://www.thatsuburbanmomma.com/search/label/wordlesswednesday" title="That Suburban Momma"><img src="http://i1311.photobucket.com/albums/s663/thatsuburbanmom/b8c8532b-6378-401a-b58c-38314524e29c_zpsed912a71.jpg" alt="That Suburban Momma" style="border:none;" /></a></div>