Welcome back to the (Not So) Wordless Wednesday Blog Hop!
Welcome back! Thank you for coming back week after week to share your photos. Please share after you link up so we can continue to grow!
100 Years of Hair
I've been a bit hair obsessed, so I thought a hair post was in order. Here is my version of 100 years of hair. Obviously this isn't all of the hairstyles that were popular. I just picked out the ones that come to my mind when I think of that time period.
1900's
1920's
1930's
1940's
1950's
1960's
1970's
1980's
1990's
2000's
2010's
So many different hairstyles are in right now. This year alone I have been
Blonde
A Red Head
And back to Brunette
Sometimes I wear my hair curly and sometimes I wear it straight...
Right now I'm really obsessed with the hair of the 40's and 50's, but unfortunately due to time I don't get to wear it all that often. Here are a couple of the times I got to spend hours on my hair...
What is your hairstyle right now? Or what is your favorite vintage style? I'd love to hear about it in a comment!
On to the hop...

The Rules


Leave a comment letting me know that you are a new follower, so we can follow you back!
2. Link up any post with photos, it doesn't have to be wordless.
3. Visit some of the other blogs that have linked up!


4. Share!
Copy and post the button below on your sidebar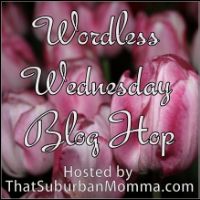 <div align="center"><a href="http://www.thatsuburbanmomma.com/search/label/wordlesswednesday" title="That Suburban Momma"><img src="http://i1311.photobucket.com/albums/s663/thatsuburbanmom/b8c8532b-6378-401a-b58c-38314524e29c_zpsed912a71.jpg" alt="That Suburban Momma" style="border:none;" /></a></div>