Welcome back to the (Not So) Wordless Wednesday Blog Hop!
Thank you for coming back week after week to share your photos. Please share after you link up so we can continue to grow!
Happy 8th Birthday Little Princess!
Sunday was my Sweet little Princess' 8th birthday! This year she was at her dad's for her actual birthday, so we celebrated on Friday. She will be doing her birthday party in September, so stay tuned for those photos!

We have a two traditions that we do every year.
First, we always stop by the coffee shop for a yummy iced pink milk with lots of whipped cream!
The second is a mother daughter mani-pedi.
She chose to go to Big Al's in Beaverton to celebrate!
There is bowling, yummy food, and an awesome arcade, so we knew it would be a super fun time!
We started with bowling and food.
She chose french toast. Great birthday dinner choice!
This was my favorite picture of us!
I was so proud that she was bowling like a big girl. Usually she uses one of the metal things to help kids.
After we got done bowling, we headed upstairs to the Arcade.
We were in the arcade for hours and had such a fun time! The Princess really made out on tickets.
It ended up being just over 4,000 tickets, plus some nice people gave us a card with 1,000 more tickets on it as a birthday gift!
Over 5,000 tickets and she walks away with a ring, "funny putty", and a push pop. Saved the rest. What??!
Finally we headed home for cake and presents.

I usually make her cake, but I will be making a pretty extravagant cake for her birthday party next month. So I gave myself a pass and bought an Oreo ice cream cake. It was pretty yummy!
Her favorite gift was her new password journal! She was sooo excited for this one. I totally recommend this for any girl around 8 years old.
The last birthday request of the night was to build a fort in the living room and sleep in it together.

So, I showed her how it's done.
It's been a while since I've slept on the floor and I didn't remember it being that hard, but we had fun!
It was such a fun day! Do you have any fun birthday traditions for your kids? I'd love to hear about it in a comment!
If you LOVE my blog, and I hope you do, please vote for me! All you have to do is click the banner
!


3. Visit some of the other blogs that have linked up!
4. Share!
Copy and post the button below on your sidebar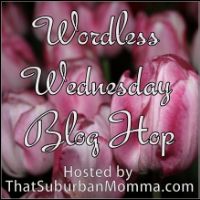 <div align="center"><a href="http://www.thatsuburbanmomma.com/search/label/wordlesswednesday" title="That Suburban Momma"><img src="http://i1311.photobucket.com/albums/s663/thatsuburbanmom/b8c8532b-6378-401a-b58c-38314524e29c_zpsed912a71.jpg" alt="That Suburban Momma" style="border:none;" /></a></div>