Welcome back to the (Not So) Wordless Wednesday Blog Hop!
Thank you for coming back week after week to share your photos. Please share after you link up so we can continue to grow!
Bauman Farms Pumpkin Patch
One of my favorite things to do around this time of year is visit the local pumpkin patches! Yesterday we went to

Bauman Farms

in Gervais. It was a bit of a drive, but was so fun and totally worth it!
We went with some good friends and had a blast. Even though it was a weekday, there were so many fun activities.
We started with the slides.
Of course us grown ups had to try it, too!!
After that we checked out the swings.
There were lots of cute animals to pet and feed.
The dark maze was so creepy!
We ended up having to use cell phone flashlights. I don't know how anyone could get through without one!
We took a hayride to the corn maze.
If you LOVE my blog, and I hope you do, please vote for me! All you have to do is click the banner!
Leave a comment letting me know that you are a new follower, so I can follow you back!
2. Link up any post with photos, it doesn't have to be wordless.
3. Visit some of the other blogs that have linked up!

4. Share!
Copy and post the button below on your sidebar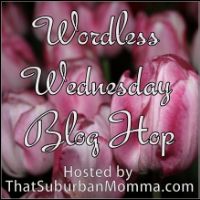 <div align="center"><a href="http://www.thatsuburbanmomma.com/search/label/wordlesswednesday" title="That Suburban Momma"><img src="http://i1311.photobucket.com/albums/s663/thatsuburbanmom/b8c8532b-6378-401a-b58c-38314524e29c_zpsed912a71.jpg" alt="That Suburban Momma" style="border:none;" /></a></div>