Welcome back to the (Not So) Wordless Wednesday Blog Hop!
Thank you for coming back week after week to share your photos. Please share after you link up so we can continue to grow!
"I told my kids I ate all their Halloween Candy"
So apparently I've been living under a rock because I just learned of Jimmy Kimmel's annual Halloween prank on children. He asks parent's to tell their children that they ate all of their candy and then video the children's reactions.
Here are the ones that Jimmy Kimmel selected as the "best":
I'm sure some will disagree with me on this, but I think it's awful. I don't see the humor in devastating your child for entertainment. Some of the reactions are a bit comical like the little boy who gives his dad a thumbs up, but most of them are just sad. The poor little girl at 2:30 just breaks my heart. How confusing for the poor children when they realize that their parents are just doing this to them for a laugh.
What do you think? Funny or awful?
If you LOVE my blog, and I hope you do, please vote for me! All you have to do is click the banner!
Leave a comment letting me know that you are a new follower, so I can follow you back!
2. Link up any post with photos, it doesn't have to be wordless.
3. Visit some of the other blogs that have linked up!
4. Share!
Copy and post the button below on your sidebar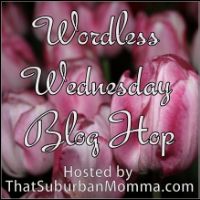 <div align="center"><a href="http://www.thatsuburbanmomma.com/search/label/wordlesswednesday" title="That Suburban Momma"><img src="http://i1311.photobucket.com/albums/s663/thatsuburbanmom/b8c8532b-6378-401a-b58c-38314524e29c_zpsed912a71.jpg" alt="That Suburban Momma" style="border:none;" /></a></div>