My birthday was on the 7th, and I had such a wonderful day! The lovely Cherry Dollface made a stop in Portland with her West Coast Pinup Tour.
I did a mother/ daughter pin up shoot with The Princess, it was a blast!
Cherry Dollface did our hair, and Nikki Napalm did our makeup. They were both so sweet!
Gunslinger Photography did the photo shoot. I can't wait to see the photos! It was so fun! The Princess LOVED it. She has decided to be a model now, haha! I have to admit, she's a natural...
We went out to dinner, then had some ice cream cake from Baskin Robbins. Yum! Then I got to open my
presents! I collect Disney Limited Edition dolls, and I've been wanting these ones for quite a while! So gorgeous!
It was such a perfect birthday. Of course The Princess and I took a bunch of silly selfies. I loved being all dolled up!
Wordless Wednesday Linkup
The Rules
1. Please follow your host Darling Dame (that's me!)
Facebook
/ Twitter/ Pinterest/ Instagram
Leave a comment letting me know that you are a new follower, so I can follow you back!
2. Link up any post with photos, it doesn't have to be wordless.
3. Visit some of the other blogs that have linked up!
4. Share!
Copy and post the button below on your sidebar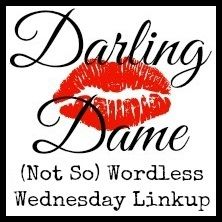 If you are interested in cohosting the (Not S
o)
Wordless Wednesday Linkup,
send me an email
!