Kitten LOVE
We adopted a kitten! The story is all kinds of awesome...
A couple days before our vacation to Reno, the man decided to take the Princess to look at kittens at Petco. She has wanted one forever. He said, well if you had $100 you could adopt one. Well, she got home and went straight to her piggy bank. A couple hours later, we were off to adopt a kitten!
The man learned 3 valuable lessons:
1. Don't take a little girl to see the kittens at Petco (unless you're planning to adopt one).
2. Don't tell the little girl that she can get a kitten if she can come up with the $100 (unless you really want a kitten).
3. Piggy banks hold a lot more money than you'd think.... On our way to Petco. She's crossing her fingers that he's still
She named him Fiyero after the male lead in Wicked. Here are some of my favorite photos from my Instagram:
Isn't he the cutest!? They have bonded so sweetly! He just loves to snuggle up with her.
Wordless Wednesday Linkup
The Rules
1. Please follow your host Darling Dame (that's me!)
Facebook
/ Twitter/ Pinterest/ Instagram
Leave a comment letting me know that you are a new follower, so I can follow you back!
2. Link up any post with photos, it doesn't have to be wordless.
3. Visit some of the other blogs that have linked up!
4. Share!
Copy and post the button below on your sidebar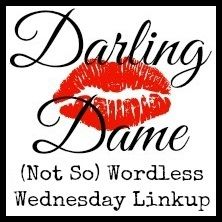 If you are interested in cohosting the (Not S
o)
Wordless Wednesday Linkup,
send me an email
!